About the Book, A Tangled Tree
A TANGLED TREE begins in the summertime, as Aiyanna follows her father Moshe on their big adventures—living on a nude beach on Kauai, chasing the Grateful Dead in an old milk truck, offering prayers to the Wailing Wall, lighting candles in the Shabbas House in Massachusetts, which is always their base. Twelve years later and after years of distance, Moshe arrives at her door, barefoot, with a beard to his chest, a sage of Judah adorned in fine Indian silk. They have reunited with a shared vision: To record his life story and memoir. Born as a Polish Jew on the run from the Nazi invasion launching World War II, Moshe and his family barely escape the oncoming Holocaust. They find refuge on a kolhoz in Russia, return to Poland to encounter their deepest grief, move to a settlement in Israel, and eventually immigrate to Toronto. Despite his poverty and against the odds, Moshe becomes an academic, a Harvard professor, psychologist and rabbi. But by the age of 30, something inside him shifts, and he reaches for more. During the psychedelic intrigue of the '70s, he turns to a healer named Salvador, a man who gives him his first taste of LSD in a cathartic ritual. He travels to India, where a mystic named Osho introduces him to the love that heals. Across the world he seeks healing, traveling on an ever-morphing spiritual journey. Moshe fathers six children with five women. Aiyanna is his fourth, born out of wedlock to an astrologer with many names.

Moshe's epic personality, wisdom, stories, and memories suddenly collide into Aiyanna's life, filling her one- bedroom apartment, where they record together for a month, fighting, laughing, cooking dinners, ultimately rebuilding their lost relationship. When Moshe leaves, Aiyanna is left with a lifetime of pages to be written. But the book she writes is far from the reflection Moshe expected. Aiyanna's life experiences stand beside his; she writes of her siblings, their mothers, and the tangled nest of contention, love and disconnection between them all. From this portrayal, Moshe feels both betrayed and deeply wounded, confirmed that all women are only destined to hurt him. A TANGLED TREE is more than a memoir. It tells two conflicting but inseparable truths, painting a dynamic portrait of a man, of his parents' miraculous escape, of the six children he fathered, and of a daughter determined to tell their story, and carry it forward until the end.
Read the First 10 pages here
About the Author
Aiyanna Sezak-Blatt grew up on the island of Kauai where she gorged on mangos, chased after imaginary unicorns and freckled beneath a hot tropical sun. As a young woman, she traveled to Massachusetts to attend the Cambridge School of Weston for high school, and landed in New York to study at Sarah Lawrence College, where she received a BA in creative writing. Her junior year abroad took her to England, where she wandered the stone buildings of Oxford University, lived in libraries, trekked through Eastern Europe in the heart of winter, and devoted herself to creative writing.
Since then, the rolling purple mountains of Western North Carolina have become Aiyanna's home, and she lives and works in Asheville, a city in a high valley of the Appalachian Mountains. She can be found raising her children working on a growing homestead with her partner. She is a writer, a student of permaculture design and gardening; she is a maker of herbal elixirs and meads, a tarot card reader, a constant and sensitive seeker, and grateful to be on this beautiful and mysterious journey called life.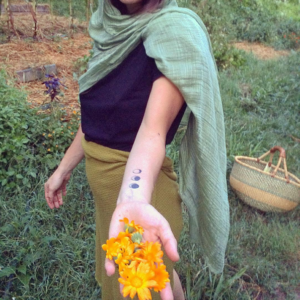 Aiyanna Sezak-Blatt began her career as a reporter with Mountain Xpress, Asheville's independent and locally-owned newspaper, writing about community activism, sustainability, local food systems, art, theater, dance and expressive art. Check out her articles published in print, 2007-2016 here.
Aiyanna is a writer with Wild Abundance, a primitive skills and natural building school just outside of Asheville, North Carolina. Read her articles on homesteading, gardening and permaculture published by Mother Earth News here.
In addition to writing, Aiyanna works as the Director of Philanthropy for Our VOICE, Asheville & Buncombe County's rape crisis and prevention center, a nonprofit committed to the vital work of ending sexual violence while helping people heal and reclaim their power.
A Tangled Tree
Nominated for the 2017 Thomas Wolfe Literary Award
Beautifully clear-eyed prose…
"In beautifully clear-eyed prose, Aiyanna Sezak-Blatt plumbs the complexities of her bond with a brilliant, unsettled father. Their story leaps across continents and generations to map a branching history of pain, betrayal, and devotion. Moshe Blatt is a hypnotic character—wolf and wise man, adorable and infuriating—but his daughter's quest to understand her heritage is just as mesmerizing."
LENI ZUMAS
Author of Red Clocks, The Listeners, and Farewell Navigator
lenizumas.com
Unflinchingly candid…
"A Tangled Tree is a powerful and emotional journey exploring Sezak–Blatt's relationship with her eccentric, adventurous, and often–absent father. Unflinchingly candid and beautifully written, A Tangled Tree offers no easy answers. Instead, it tests the frayed, raveled, and enduring bonds between daughter and dad. It's athought–provoking, touching quest to heal and rebuild from the rubble." 
WILL HARLAN
Author of Untamed: The Wildest Woman in America
will-harlan.com
Lit with warmth…
"A moving portrait of a remarkable man and a remarkable father-daughter relationship. Every page is lit with warmth, compassion, and moral grace."
BRIAN MORTON
Author of Starting Out in the Evening and Florence Gordon
Wikipedia
Foreward Reviews

Aiyanna Sezak-Blatt's A Tangled Tree is an aching, beatific trip through a family's cellular memory, showing how intricately our futures are tied to the events of our ancestral pasts.
When the opportunity to write her enigmatic father's life story arose, Aiyanna jumped to the task. The fourth of Michael's six children, Ayianna recalls being both awed and embarrassed by her father. She relates feeling blessed by the gift of his radical and communal Shabbat practices, but also set apart by his choices, including his frequent transitions between families. She captures colorful memories of him—long-haired, nonconformist, naked, and stoned in the name of transcendence—on the Hawaii beaches of her youth.
But underlying the biography of this wild, rabbinic hippie is a troubled past. Michael was conceived while his parents fled Hitler's grasp, and came into the world just beyond the Reich's reach: "My father was born in … shape-shifting territory, in a time when maps were drawn and tossed and borders refused to stay still." He grew up haunted by the radical improbability of his very existence; those insecurities bled over into his unconventional lifestyle choices, and ultimately over into his children's sensibilities.
Aiyanna finds herself haunted by what ifs, and by the knowledge of what happened to her extended family, who could not flee:
I have dreamed of my own death in Auschwitz. I have breathed in the gas. I have fallen, naked, to a cold floor, gasping for breath, taking in the green, toxic steam. In my dream, I am not alone.
Such ties are emotively rendered, and make the work a good fit for those interested in the lasting psychological effects of genocides. The book transcends its familiar themes, too, by the sheer power of its prose. Aiyanna captures feelings, moments, and sensations with skill: a lapis stone burning like a memory in the belly of her grandmother; the itchy strangeness of an accidental dose of a hallucinogen; the cramped airlessness of the last train car out of Poland. Such moments are captivating and sensitively captured.
Family dramas are touched upon frequently, though Aiyanna remains a diplomatic storyteller—both naming her father's missteps and allowing him room to forward his own defenses. She troubles through dominant issues thoughtfully, producing nuanced portraits of those who came before her—and, through them, a rounded picture of herself, set appropriately within the family tree.
Flaws are few and are generally cosmetic–an unnerving, unpolished cover; letters to a friend that are preserved in a hard-to-read script. The text remains a pleasure to read throughout: illuminating, deliberate, and lovely.
A Tangled Tree is a stunning family biography—as Michael says of his own memories, "it is so miraculous, so painful, so beautiful it hurts."
Reviewed by MICHELLE ANNE SCHINGLER    
Contact Moshe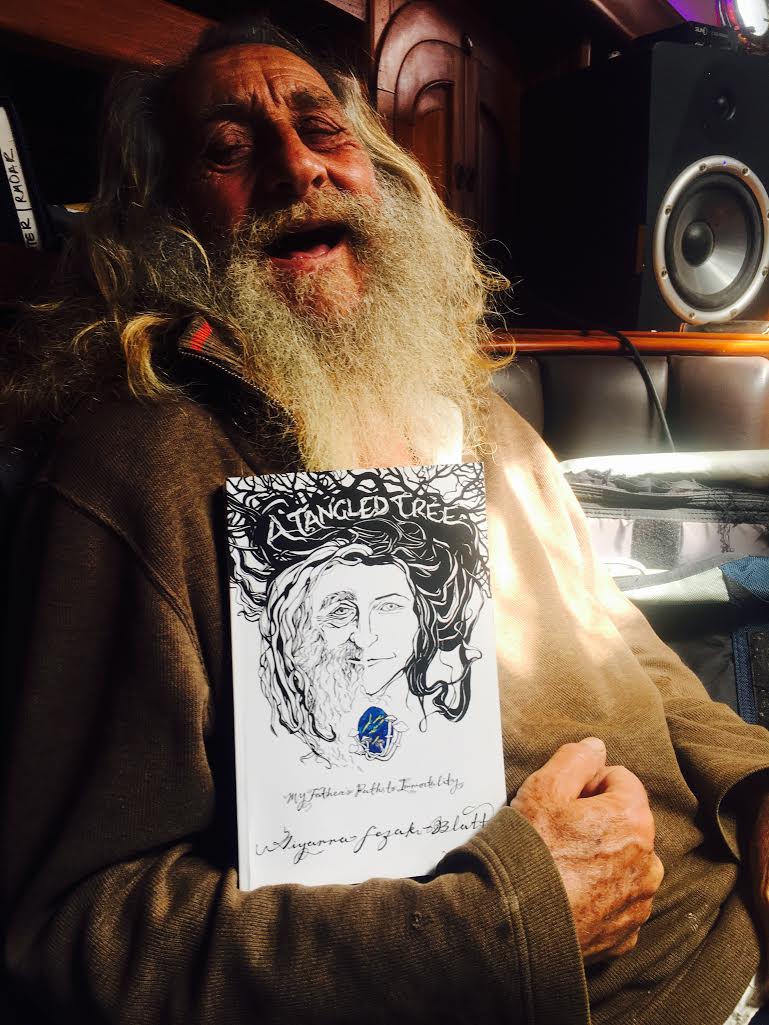 Listen to a recording of Yiddish lullabies and Hebrew prayers by Moshe Blatt on
SoundCloud
.